Article
Providing for the Hispanic family's financial future
Life insurance can be a difficult concept to comprehend, especially for recent immigrants or many bi-cultural Hispanics. Why is that? Let's take a moment to think about Hispanic heritage and how life insurance helps build generational financial security.
October 7, 2022
5 min read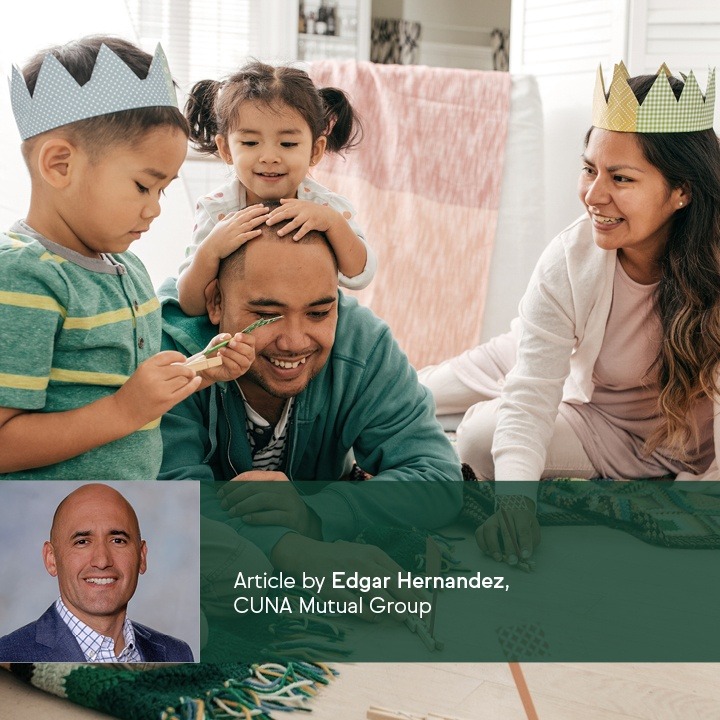 Introduction
Every year, Hispanic Heritage celebrations span two months—from September 15 through October 15.  Why is that?  Well, for starters, several Latin American countries received their independence from Spain during September. And we Hispanics like to extend the party as much as possible! This is also a good time to think about ways we can help protect the future of our loved ones, including by looking into the possibility of getting life insurance.
Not all Hispanics are alike
Today, the United States is home to more than 62 million Hispanics. And while Spanish is one of the common denominators among most Hispanics, not all Hispanics in the U.S. speak Spanish.
One way to think of the average Latino family is as a savory Pastel de Tres Leches (Three Layers Cake). The "acculturated Hispanic" is second or third generation and may only speak or prefer to speak English. The "bicultural Hispanic" was born or immigrated to the States speaking Spanish at home and English outside of the home. And the "unacculturated Hispanic" might have immigrated in recent years and prefers to speak and read in Spanish. No matter which group you or your Latino friend might identify with, we can all agree on one thing—we all care about our familia. But not all of us have thought about how to help protect their financial future. Here are some ideas.
Do you have emergency savings at a trustworthy financial institution?
First, many individuals, Hispanics and non-Hispanics alike, aspire to get a piece of the American Dream: a decent job, a house, a dog named Max, or even their own business … that's listed in the New York Stock Exchange!
However, the reality is that roughly 40% of Americans of all ethnic backgrounds cannot come up with $400 for an emergency. This means that if a refrigerator breaks, you may either have to go to Facebook Marketplace to get a used refrigerator at a fraction of the cost of a new one or pull out that good old plastic credit card (if you have one).
Do you know the 3 to 6 Month Rule?
Credit card debt can become its own problem. Saving ahead is better. For this, a general rule of thumb is to have 3-6 months of your expenses saved up for an emergency. And while you might be tempted to keep those funds under the mattress or in a shoebox, a better option could be opening an account in your local credit union so …
1) You won't be tempted to pull it for non-essential items
2) You earn a little bit of interest in a savings account to help keep your savings from eroding with inflation
Of course, if you are Latino and come from a country where financial institutions have not had the best reputations during hyper-inflationary periods, your trust might be low. But remember, here in the U.S. the FDIC protects your deposits up to $250,000. 
Do you have at least 3 months of expenses set aside for a rainy day? If not, consider that as your first goal after finishing this article. 
Are your precious assets protected?
Second, do you own a vehicle to go to work, run errands, pick up those chamacos (kiddos) at daycare, etc.? What happens if its radiator breaks (which could be more than a $400 expense) or worse, you get rear-ended at an intersection while the person behind you was texting? We all know the importance of carrying auto insurance; in fact, it's a law in most states. But this also applies to your home, belongings, and perhaps your most valuable asset--tu salud (your health). Did you know that one in seven persons under age 65 has problems paying medical bills? Well, now you do.  So, walking around without insurance is taking a risk that could set you back physically, financially, and emotionally. In many Latin countries, socialized care is available and health care costs are more reasonable; but, in the U.S., signing up for insurance is the only way to control health care costs.
Do you have proper health care coverage from your job or privately? If not, please make looking into that your second takeaway.
And finally, are your loved ones protected?
Life insurance can be a difficult concept to comprehend, especially for recent immigrants or many bi-cultural Hispanics. Why is that? Although Black Americans have a high proportion of life insurance ownership compared to other groups, Hispanics have the lowest life insurance ownership due in part to misunderstandings about …
1) How expensive they think it is (Some may say, "Oh, that was for the rich people in my country.")
2) Possibly jinxing their lives (Some may say, "If I buy it, I'm tempting death.")
3) How they probably won't need it and want to enjoy life (Some may say, "I like to live for today and not worry about tomorrow.")
Let's address the last one first. Unfortunately, the pandemic underscored the fragility of humanity.  Think about what losing you could mean to your loved ones. The cost of a funeral in the United States averages about $7,640. If your family does not have the means, and your church and friends can't raise enough money — who pays for that?  This is where funeral options can turn from what you may have imagined (a traditional funeral), to what you might not have (cremation).
But not only that: If you are the main "tortilla-winner," your family may not have the means to cover your car loan (so the bank might re-possess the family car), or, worse yet, they may not be able to afford to stay in that casita where you hoped your grandchildren would live one day. 
So, do you know what are your life insurance options when it comes to providing for your familia when you are gone?  If not, please put this third and last point on your to-do list. You can find lots of information about life insurance right here on the TruStage website.
After all this is done, we can certainly talk about how to save for your kids' college or launch that tiendita (little store) that will give Amazon a run for its money, but until then let's start with the basics.
Article by Edgar Hernandez, Senior Manager, Multicultural Business Strategy / Multicultural COE for CUNA Mutual Group, the parent company of TruStage.
Got a minute?
Get a life insurance quote - it won't take long.
Get pricing