Article
Does home insurance cover working from home?
The answer is - it depends. Are you working from home or operating a home-based business? Learn how to figure out which type of insurance coverage you need to fit your working lifestyle.
March 16, 2022
4 min read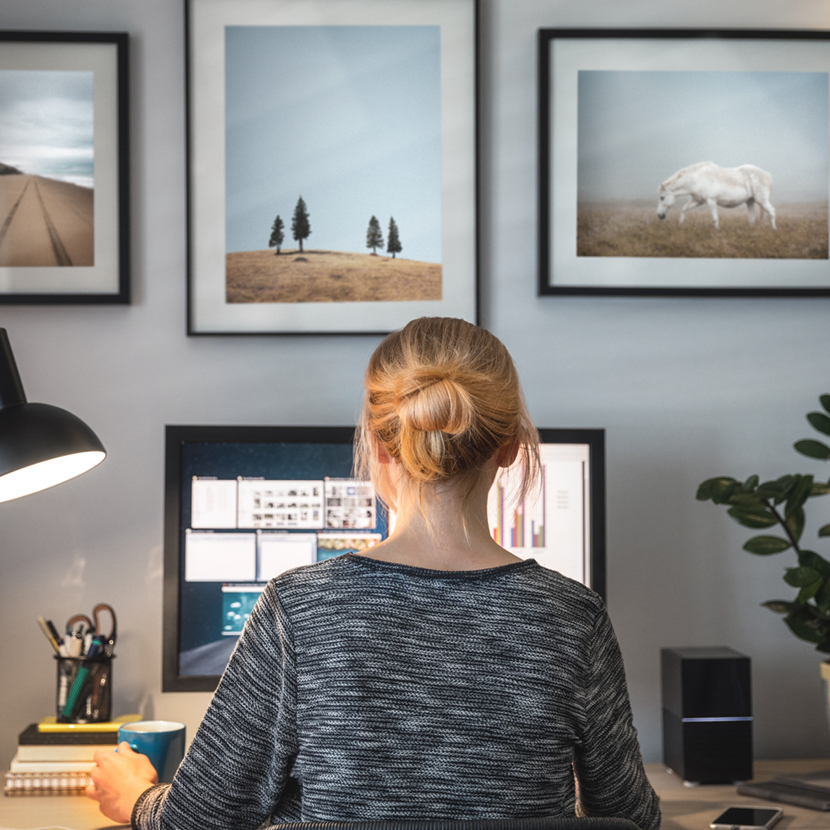 Figuring out the basics
The COVID-19 pandemic moved many people from highly organized office settings to whatever working space they could find in their homes, from kitchen tables to living room couches. This quick change may have blurred the boundaries between work and home activities for many. However, it's important to understand that as far as your home insurance policy is concerned, your coverage is typically only for personal belongings and personal activities in your home and surrounding property. Your work-related activities, no matter where they take place, should be covered by your employer's business insurance.
This could become confusing if you suddenly have to shift to working from home and must use your personal laptop rather than your workplace computer to do your job. Who will cover the loss if your laptop is damaged during work hours because your child spills water on it? Home insurance often includes coverage for business property like computers or printers that are broken or lost on your home premises. However, the coverage is usually $2,500 or less, and you have to pay a deductible first.
For this reason, as soon as you are able, you should call the human resources department of your employer to find out how the company's insurance plan will help protect you working from home. If you learn that your employer's insurance plan might not cover personal property that you are using for work, ask if they can provide a laptop or other equipment for you. If your employer is unable to provide you equipment, consider requesting or purchasing an endorsement. An endorsement or rider is a change to your official home insurance policy, sometimes requiring a one-time fee. You can use an endorsement to increase the level of your business property coverage.
Thinking it through
Once you understand how your employer's insurance will cover you working from home, determine whether any of your work activities could impact your home insurance premiums and coverage limits. In most cases, your policy should be unaffected. However, if you have to store some of your employer's inventory or products in your home, both your home insurance coverage limits and your premiums could go up. The same holds true if you frequently have business guests visit your home. Review the personal liability coverage of your home insurance policy to make sure these issues will not affect you.

Also consider whether you will have to use your personal vehicle for work activities. If so, consider asking your employer to cover you with commercial auto insurance.
When you're the boss
If you work a "side hustle" from home, the business property protection of your home insurance policy typically should cover your risks. However, if you work full-time as an independent contractor, you may be considered a full-fledged business by law. In this case, you might want to consider standard business liability and business property insurance to protect yourself. Depending on your work, you might also consider malpractice insurance and commercial auto coverage.
But what if you're the owner of a small company with employees and you just transitioned all your employees to working from home? In that event, you'll likely want to review your business insurance and workers' compensation policies to make sure they cover the risks of working at home. Meet with your employees to set clear expectations for how you expect them to conduct themselves as telecommuters. Consider having employees comply with safety and security checklists for their at-home workspaces. You might also confirm that your employees are carrying up-to-date home insurance policies for extra coverage.
Conclusion
As you can see, when working from home, the good news is your home insurance plan should be largely unchanged. However, there is a chance that in response to the COVID-19 pandemic, insurance companies might change the way they cover working from home in the future. It never hurts to have a discussion with your insurance agent so that you can be better prepared for tomorrow's trends.