Article
The Car-Buying Experience: What to Consider
The average driver may have had a first-time car buying experience purchasing a used car from a neighbor, or getting a car gifted from a family member. But it is good to prepare for the more complex process of buying a new car or leasing for the first time. Let's compare the two.
November 8, 2023
6 min read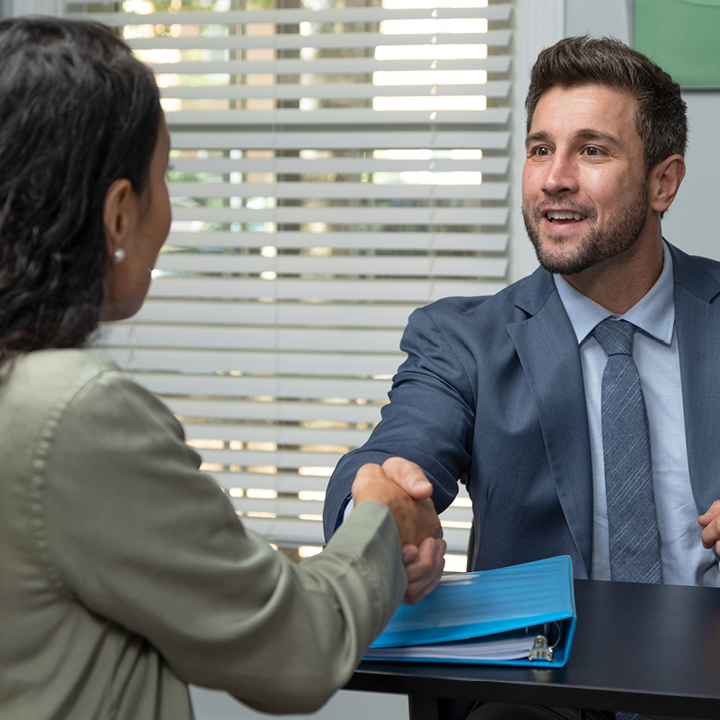 Differences between buying and leasing a car
When you buy a car, you agree to pay the value of the vehicle no matter how long you intend to keep it. When you lease a car, you agree to drive the car for only a set number of months and miles before returning it. During that time, you pay a small percentage of the value of the car by making monthly payments.
You may find advantages and disadvantages to both owning and leasing. Here are a few things you might also want to consider as you decide which may be best for you.
Budget: How much can you afford to pay monthly for a car? Now think about the next few years. How much do you expect to be able to pay in the future? Your estimate should include your house payment or rent, utility bills, food and other ongoing payments.
Mileage: How many miles per week do you expect to drive a car? Mileage in a car lease agreement is typically determined with the average driver in mind. If you have a longer-than-normal commute to work, you might want to consider buying a car.
Maintenance: Be honest about how well you're likely to take care of your car, in terms of keeping up with necessary repairs, oil changes and other services. Your answer may be a factor in whether you buy or lease a car. If you buy a car, how well you care for it is up to you. On the other hand, if you lease a car, the leasing company typically requires you to keep it in reasonable condition.
New vehicle preference: Do you enjoy the feeling of getting a new car every few years? If you buy a new car, you'll likely have a four- to six-year loan to pay off before getting another car. With a lease, you'll probably have a two- to three-year commitment before you could lease another new car.
Considerations when buying a car
Unlimited mileage: When you own your car, you can choose to drive it as often as you like and not worry about the mileage. The exception is if you're concerned about your car's warranty. Manufacturers typically offer warranties that expire after a certain number of miles, or a certain time period - whichever comes first. If you're trying to maximize the length of your car's warranty, you may choose to drive it less to keep the miles off.
Personalizing: Owning your vehicle gives you the option to make changes to it as long as your warranty allows it. For example, you might be able to add special wheels, a bike rack or an upgraded infotainment system. If you do plan to make changes, check with your insurance company to make sure you can get protection for the new items. Selling: If your car's paid in full, you can keep whatever money you get when you sell it. However, some vehicles depreciate, or lose their value, quickly. It's not a guarantee that you'll be offered your asking price.
Down payment: Car dealerships and loan agencies sometimes insist on costly down payments. They believe that buyers who have saved enough money for their down payment are more likely to make their monthly payments.
Monthly payment: Even if you can afford the down payment, you might determine that the monthly payments put the car out of your budget. Sometimes this happens because the monthly payment to buy a car can be higher than the payment for a lease. One of the reasons is because the monthly payments include your interest rate, or the percentage amount you pay to a lender to borrow money. This isn't the case for a leased vehicle.
Considerations when leasing a car
Payments: One of the main reasons some people prefer to lease a car is the total cost. Both the down payment and monthly payments may be lower than if you were buying the car.
New car: Some people feel safer driving a new car. Others simply enjoy the experience. In either case, leasing may give you the opportunity to switch to a new vehicle every few years, when your lease is up.
Maintenance requirement: When you return the car at the end of the leasing period, the car must be in excellent shape. If the condition of the car doesn't meet expectations, you may have to pay another fee. The leasing agreement's warranty typically covers a few specific maintenance issues, but you may have to pay for other repairs.
Mileage restriction: Your lease will usually have a mileage restriction to help keep the car in top-notch condition. Leases commonly allow between 10K to 15K miles per year. If you drive more than allowed, you can expect to pay fees.
Where to apply for an auto loan
There are a variety of sources you could turn to when you need money to buy a car, such as a bank, a credit union or a car dealership's finance company. In each case, the lender will likely run a credit check to review your history of debt.
But each lender will have its own rules regarding how much to charge you in interest for the loan. They'll also likely differ on how long you'll have to repay the loan and what your monthly payments will be. Many people go to their bank or credit union first when looking for a loan. Banks and credit unions want to help you find a way to accept your application because you're already a customer.
Car loans from a dealership's finance company are often the most convenient because you can complete the paperwork when you're shopping for a car. But it's usually worthwhile to compare the offer with those from banks and credit unions first.
Auto insurance
You need auto insurance in most states before you can legally drive a vehicle on a public road, regardless of if you buy or lease. But each state has its own laws regarding which types of auto insurance you need. When leasing a car, the leasing company may require you to buy more insurance than you might typically buy if you owned the car.
Deciding to buy or to lease
Deciding between car buying and car leasing involves being honest about things like your driving habits and your financial situation. For example, if you don't like limit restrictions on how many miles you can put on your car, you might decide to buy. But if you enjoy driving a new vehicle every few years, you might choose to lease. Are the down payment or possible higher monthly payments an issue? If so, leasing may appeal to you.
And remember—whether you buy or lease, you'll need auto insurance. You can get a quote for auto insurance with the TruStage™ Auto and Home Insurance Program.
Auto and Home Insurance Products are issued by leading insurance companies. The insurance offered is not a deposit, and is not federally insured, sold, or guaranteed by any financial institution. Product and features may vary and not be available in all states.
© TruStage


Got a minute?
Get a life insurance quote - it won't take long.
Get pricing