Article
When should I consider reviewing my auto insurance coverage?
Change is inevitable. So, as life happens and different events occur, it might be a good time to consider switching your auto insurance coverage.
June 22, 2022
4 min read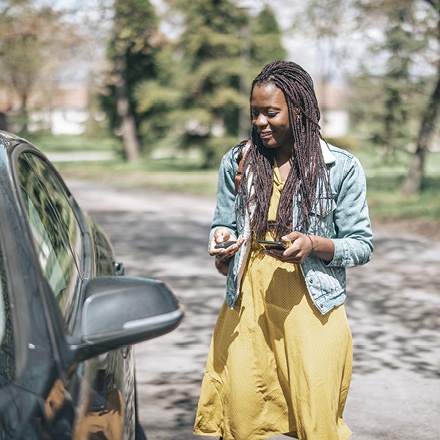 For example, are you thinking of buying or selling a car? You might have noticed that car values have gone up recently due to the car shortage caused by the COVID-19 pandemic and inflation. This also means that insurance rates may also be affected.
What life events could affect my auto insurance?
Buying or selling a car is just one example of many events in your life that could influence your insurance decisions. Let's look at four.
Are you moving to a new state?
Each state has its own auto insurance laws. So, your new location may require more or less insurance coverage than wherever you moved from. For example, some places ask drivers to have only liability coverage. But other places will allow you to operate a vehicle only if you have additional insurance. They require you to have enough insurance to cover your medical expenses if you're involved in an accident with an uninsured or underinsured driver. Of course, you may move to an area where the insurance requirements are not as strict, which means that you could possibly save money.
Are you adding or dropping drivers from your coverage?
Typically, adding a new teenage driver in the family to your insurance plan will increase your monthly payments. On the other hand, removing drivers from your plan once they're old enough to pay for their own coverage could lower your insurance. Either way, you may want to shop policies.
Are you using your car a little more or less than usual?
Since the pandemic started, many people have driven their cars far less than they used to. If that's your case, consider checking with your insurance company to see if you can get a lower rate. Generally, drivers who seldom use their vehicles benefit from discounts. Some companies also offer pay-by-the-mile auto insurance, which may make sense for you if you rarely drive.
Are you using your car as part of a new business?
Is your family one of the growing number of families who have had to hold a second or third job to make ends meet? If that extra gig involves your car, you may need to adjust your insurance. For example, are you a delivery driver or a ride-share driver? If so, you may need additional insurance because your typical family auto insurance may not cover using your car for business.
Are there ways to possibly save money on my current auto insurance?
There are some simple steps you may want to consider to try to save money on the auto insurance coverage you already have. First, try to maintain a safe driving record. Many insurance companies reward safe drivers with lower rates.
You could also try to limit the number of miles you put on your car by using it only when it's necessary. Sometimes lower mileage can mean a lower insurance rate.
Installing an anti-theft device may also save you money. Insurance companies sometimes lower their rates for owners who use technology to make it harder to steal their vehicles.
You may also be able to save money by raising your deductible. A deductible is the amount you pay when you make an insurance claim, before the insurance company pays its share. It's natural for people to choose insurance plans with a low deductible, but increasing your deductible will usually lower your monthly payments.
Do I have enough coverage with my auto insurance?
Reviewing your insurance coverage may help you save money, but it's also a good way to see if you have enough coverage. While no one can guarantee you protection from all of life's uncertainties, increasing your coverage may put you in a better position in case of an accident.
Even if your state doesn't require as much coverage as some others do, you still might want to consider increasing your personal coverage. It may be helpful to speak with your insurance company about the policy you have now and ask if there are opportunities to add to it.
Regularly reviewing your auto insurance may be beneficial
Does your auto insurance match your current needs? One day, you could be using your car to commute only a mile to work. Then, the next day, you could have a teenage driver who wants to use the vehicle to deliver pizzas.
If you make it a habit to review your coverage, especially when things change in your life, you might find ways to save and to help protect your family at the same time.