Article
Why you should consider using an online account to manage your policy
If you have researched companies, obtained quotes, and maybe even purchased insurance online, why not take advantage of an online insurance management account?
July 13, 2022
4 min read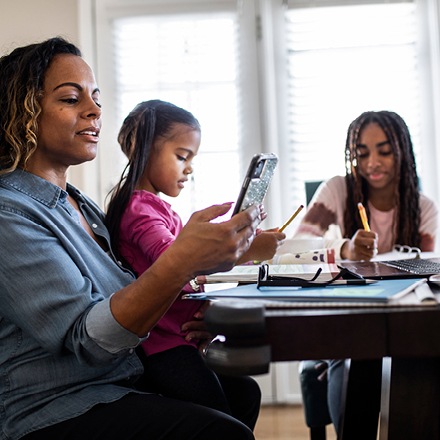 Selecting the right insurance policy for your needs can be quite an undertaking. At the very least you may have to research different companies and compare multiple quotes. Thankfully, today many insurance companies, including TruStage®, make it possible for you to research, get a quote, and purchase a policy online. Below are a few benefits of managing your insurance policy online.
Make your life easier with web and mobile access
If you want to manage your insurance policy via telephone or in person, you will likely have to call a customer service line to explain your needs, possibly waiting on hold, or you may have to drive to an office where you could find yourself waiting to see an agent. That's a lot of time and effort for what might be a simple, straightforward issue.
However, if you set up an online account to manage your insurance, you can often quickly handle many insurance concerns from wherever you have Internet access. You may be able to quickly make a payment or change your beneficiary whenever you need to. Usually you can access your account 24 hours a day, seven days a week.
Fast, Simple Payment Management
If you want to pay your premiums the old-fashioned way, you will likely need to think ahead to ensure you have enough money to mail your payment well before it is due. Then you will have to send it and hope it gets to the company safely on time so that your policy doesn't lapse.
On the other hand, if you decide to use an online account, you can often pay your premiums the day they are due and even set up automatic payments, so that you never have to worry about missing a payment deadline. This is important because a missing payment may jeopardize your insurance coverage. An online account gives you more control over the payment process.
File your claim online
If you have an accident or home-related loss and need to use your automobile, renter's, or home insurance policy, you may be able to file your claim from the comfort of your home with an online account. You may also be less likely to forget important documentation for your claim than you would if you filed in person at an office. You may additionally be able to file your claim more quickly and possibly get your benefit payment sooner.
Change your beneficiary online
If you have a life insurance policy, changing the beneficiary of your death payout is a major decision. However, beneficiaries may change more often than you think if you encounter issues like divorce, remarriage, a beneficiary death, or if you find a charitable cause you care about. If you decide to change your beneficiary once or many times, you may be able to do so quickly and conveniently with an online insurance management account.
Change your address, phone number, or other info
People move and change their contact information more frequently in the digital age, but you won't have to sit through a long phone call or drive to visit an office to change those important details if you have an online insurance account. You may change your data as soon as you need to without leaving your home.
Review your policy, coverage, and premium
Not sure if you're fully covered for an accident by your insurance policy? Want to know if rehabbing your home or adding your teenaged child to your insurance will raise your premiums? With an online insurance management account, your policy, premium and coverage rules may all be online, so you may easily find the information you want to make a decision.
Withdraw money or apply for a loan
Do you have a permanent or universal life insurance policy with cash value? If you ever encounter a situation where you need to access the cash value to cover expenses, you may be able to do so online using your web insurance policy management account. Depending on your insurer, you may be able to do this by simply logging on to withdraw money or to apply for a loan against your policy.
Insurance policy management on the go
Some insurance companies offer mobile apps so you can more easily manage your insurance from your smartphone or tablet device. This enables you to manage your insurance policy on the go.
Got a minute?
Get a life insurance quote - it won't take long.
Get pricing