Article
How to prepare your property for winter
Before you spend the cold months curled up on the couch with a good book or your favorite shows, there are a few steps you can take in the fall to make winter as trouble-free as possible for your home. Let's look at some of the things you may want to consider as winter approaches.
October 19, 2022
4 min read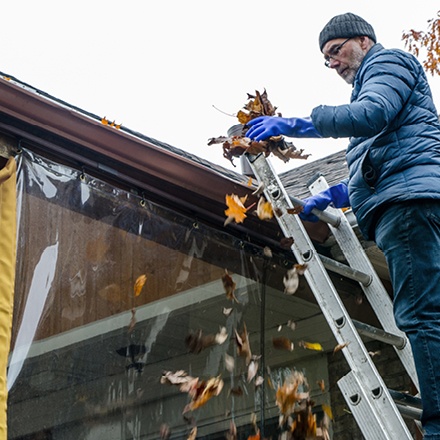 Winter home preparations you may be able to do yourself
Of course, any prep you can do yourself may help you save some money. 
Bring your plants indoors
Don't wait until the first frost—some plants are sensitive to temperatures even above freezing. 
Cover or store away your grill and lawn furniture
If you use plastic sheets or tarp to cover them, you should have less cleaning to do in the spring. 
Cover window AC units with a water-resistant tarp
You can use heavy plastic or buy coverings specially designed to fit your AC units.
Check outside water faucets for leaks
If you live in a cold climate, consider shutting off the water to outside faucets to help prevent damage to the pipes and faucets. Also, bring hoses inside to help protect them from winter damage.
Inspect doors and windows for drafts
Caulking around doors and windows will help keep the cold air out. You can also put a rolled-up towel at the foot of your doors to prevent cool air from drifting in.
Inspect patios, decks, and porches for water damage
If you see cracks, chips, and soft spots, you may want to call a professional. Once water gets into holes, it will expand when it freezes and can lead to more damage.
Order firewood or other heating fuel early
Some people wait until the last minute to place their orders. Avoid missing out on supplies by ordering what you need well before winter sets in.
Test smoke and carbon monoxide detectors
If you push the test button and don't hear a beep, it's probably time to replace the battery. 
Get your snow shovel ready to go
Or, if you have a snowblower, make sure it's in good operating condition before the first snow.
Buy rock salt or ice-melting pellets
These items are typically in short supply once walkways turn icy.
Adjust your ceiling fans to turn clockwise so that it pulls air upward
Many fans have this setting to help distribute the heat and potentially lower your heating bill. In the warmer months, your ceiling fans should turn counterclockwise and push air downward. 
Winter prep tasks that might require a professional
If any home winterization tasks are outside of your skillset, consider getting a trained professional to safely do the work.
The roofer will primarily look for missing shingles and signs of rotting wood. You want anything repaired or replaced that will allow water inside your home. This work will be difficult to do (and nearly impossible in some parts of the country) once winter begins.
Have your gutters and downspouts cleaned and repaired
When rain and melted snow can't flow smoothly from your roof, it can freeze and refreeze. Gutters can sag from the weight of the ice, bending out of place and causing more damage. The ice can also pull on nearby shingles, creating an opening for water to get inside your home. 
Have your chimney cleaned and inspected
Caring for your chimney is worthwhile even if you never use your fireplace. If bricks have become loose, ice could cause a partial collapse. And if you do use your fireplace, you'll want to make sure that old soot is removed and any cracks in the mortar are repaired. You want to reduce the chances of a spark creating fire within the walls of your chimney.
Even if your HVAC worked well all summer, that doesn't mean it will continue to do so in the winter. An experienced technician can spot potential issues before they become serious problems. And once temperatures drop, you could have a long wait to get a repairperson to your house.
Cut potentially dangerous tree limbs
Do you see tree limbs extending over powerlines? If so, let your utility company know. It will typically remove the limb for free. However, you're responsible for any branches hanging over your home. Consider calling a tree company if the limb doesn't appear strong enough to hold up against a heavy snow or ice storm. The cost of having the limb cut will usually be much lower than the cost of the damage it could cause by crashing onto your roof.
With winter right around the corner, now is a great time to make sure your home is ready for the colder temperatures. Taking a few precautionary steps may help you avoid having to make a homeowners insurance claim, which can impact the cost of your insurance.