Article
Is life insurance too expensive?
People often focus so much on the cost of life insurance that they forget to consider the cost of not having life insurance. Learn how life insurance often costs less than most people think.
October 20, 2021
3 min read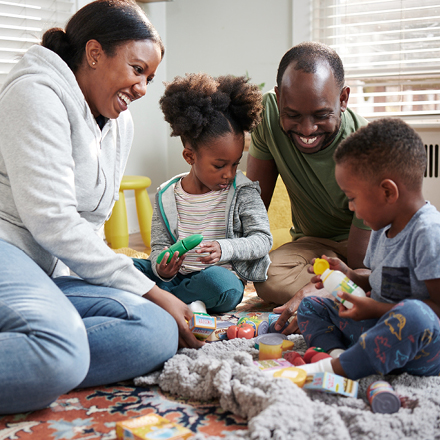 For many people, saving money doesn't just mean putting money aside. It also means avoiding certain purchases, especially when you're on a budget. One of the things some people think that they can do without is life insurance. In fact, 65% of adults in the United States don't have life insurance, in part because they believe life insurance costs more than they can afford. But if you shop around carefully, you may discover that life insurance costs less than you think.
Myths about life insurance
Often, people don't take the time to research the cost of life insurance and simply assume that it's too expensive. But there isn't just one price for everyone. If you look around a little, you can typically find insurance to match a variety of income levels. Also, it's important to remember that even if you can't afford all the life insurance you'd like to have, having some financial protection for your loved ones can make a big difference.
But what if you already have life insurance through your employer? Isn't that a good way to avoid buying a life policy? Employer-provided life insurance is a great start. But often those employer-sponsored plans don't provide enough coverage — something a lot of people don't realize. It's also likely that the policy you get at work only covers you as long as you stay in that job. If you decide you need life insurance, chances are an individual insurance plan makes sense for you in addition to being on your employer's plan.
Another mistaken idea concerns existing medical issues. A person with a serious medical issue may avoid getting life insurance either because they think they will be turned down or that it will be way too expensive. But some companies offer "guaranteed acceptance" policies, where you can't be turned down for medical reasons. You might find that they're affordable, especially if you can get by with a policy that pays a smaller death benefit.
Don't overestimate the cost of life insurance
How much do you think a typical 30-year-old would have to pay each year to have $250,000 worth of life insurance? Half of the people who were asked this question guessed $1,000 a year. Is that close to your answer? The truth is somewhere around $160 per year or about $13 a month.
Use a life insurance calculator
In just a couple of minutes, you can figure out how much you'll pay for life insurance with the help of an online life insurance calculator. The calculator will ask you a few simple financial questions. The questions may differ depending upon which calculator you use, but they'll generally cover the following:
How much money will your loved ones likely need for ongoing day-to-day expenses?
How long will your family need this income? (Consider how many years it will take for your children to support themselves.)
At your death, how much debt would you like your family to be able to pay immediately? (Examples: home mortgage and car loans.)
How many children will you need to help with college tuition?
The calculator will then give you a suggestion for how much life insurance you should purchase. But, again, this is only a suggested or ideal amount of coverage. Even a lower amount of coverage may provide valuable protection for your family.
The cost of not having life insurance
People often focus so much on the cost of life insurance that they forget to consider the cost of not having life insurance. Without help from life insurance, you could leave your family with the challenge of paying your medical bills and funeral expenses. That's in addition to other financial obligations that will continue, such as utility bills, car payments, and rent or house payments.
If you don't have life insurance, you also give up a chance to leave behind one final gift for your loved ones.
Conclusion
After using the insurance calculator, you may be shocked at how affordable life insurance can be. For a small monthly premium, life insurance has the potential to benefit your family for years to come. You may find that the advantages outweigh the costs. Just take the time to research your options and make a decision that's right for you and your family.
Got a minute?
Get a life insurance quote - it won't take long.
Get pricing