TruStage's ParkSmart certified parking ramp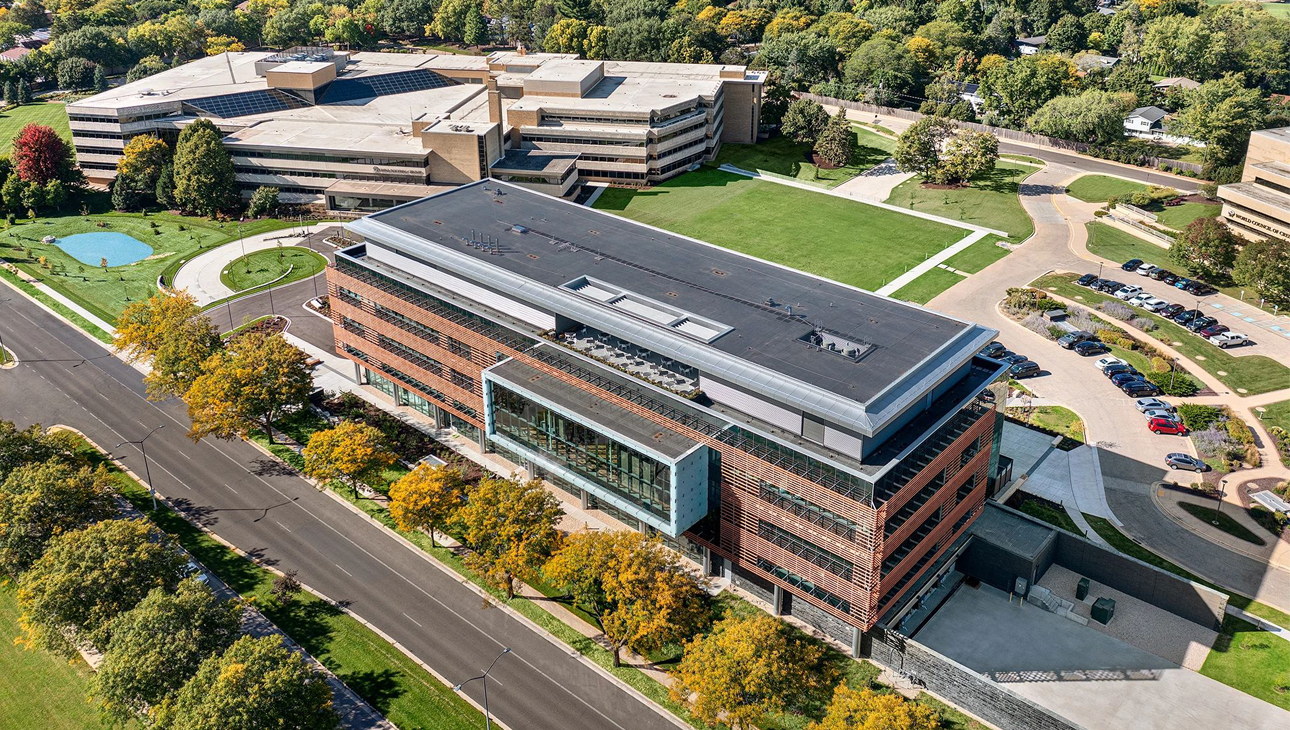 Here at TruStage, we work each day to create a brighter future for consumers across the country — and right here in our local community. Established on 18 acres on Madison's west side in 1960, our corporate headquarters has evolved over the decades to support our growing company and our new ways of working. We have embraced environmentally sustainability at each step. In 2022, we completed construction of the five-story Lighthouse and underground parking ramp that is among the first to become ParkSmart certified in Wisconsin.
ParkSmart is a voluntary certification program that provides a framework to improve mobility and use fewer resources by operating high-performance parking facilities. Our 2022 renovation converted surface parking into greenspace and hardscapes that promote that provide an abundance of usable outdoor space. These spaces provide fixed and moveable seating options for outdoor dining, outdoor meetings, and other events.
Landscape restoration on the site provides a variety of vegetation types, focusing predominately on native species. Limited and purposefully designed turf areas to bring flexibility and functionality to support various events and activities on campus.
This provides unique and inspiring spaces for visitors and employees to enjoy!
Notable features include:
Water recycling program
Environmentally friendly cleaning procedures
Construction Waste Management

Diverted 96% of construction waste from landfills through recycling or reuse

Utilized regional labor
Promote access to local mass transit options
Reserved parking spots for the following:

Rideshare/carpool
Low-emitting and fuel-efficient vehicles
Electric vehicles

EV charging stations provided
Bicycle Parking
Tire inflation station
Low VOC paints, coatings and sealants
CO monitoring to determine demand-controlled ventilation in garage
At least 75% of lighting fixtures controlled by occupancy sensors to help save energy
Green roof over entire parking garage helps with stormwater management and provides an amenity for all employees